Users can easily retrieve specific titles, parts, and sections from within the CFR with our Quick Locator tools found on the database homepage. This Knowledge Base will show how to use these various tools.
Video Tutorial
Watch this short video tutorial on how to use the CFR Locator tools.
Title/Part/Section Quick Locator
From the CFR database homepage, search for section 204 of part 160 in title 33 of the 2015 CFR edition. Begin by entering your information in the boxes provided within the Title/Part/Section Quick Locator. When entering in specific information, users will see the Go to Title and Go To Part buttons appear. This allows users to navigate directly to those parts of the CFR. In this case, let's navigate to the desired section.
NOTE: In addition to having the ability to locate a specific title, part, or section for a particular year, this tool will display sections affected by the Federal Register. Once the year, title, part, and section information has been populated, Federal Register issues in which the specified citation has been affected will appear in a red box.* Click any link to access the Federal Register page range in which the citation was affected.
*This tool is available for the Federal Register from 2015 to date.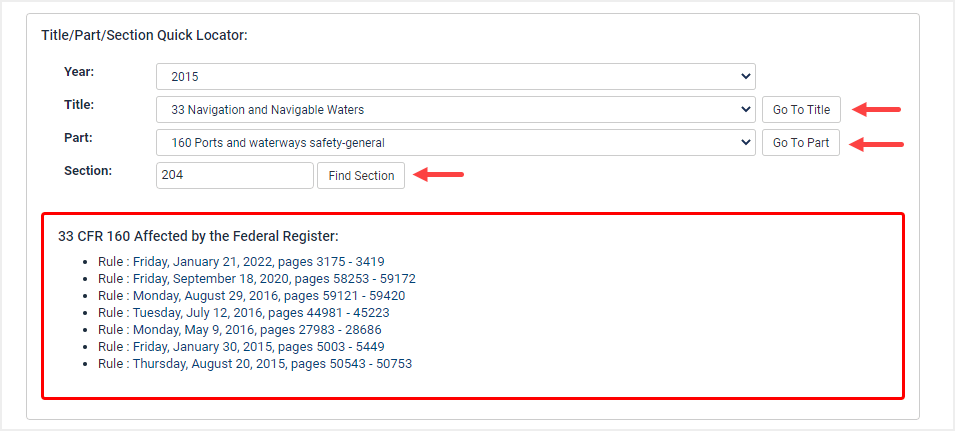 From the results page, select the Turn to Page option.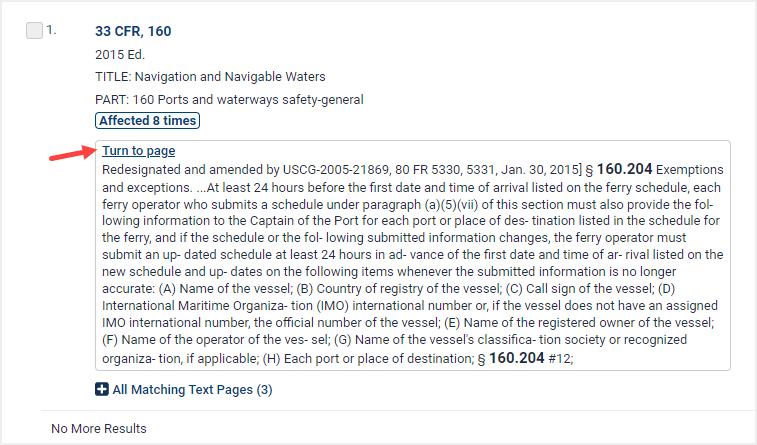 Next, users will be directed to the exact page section 204 begins on.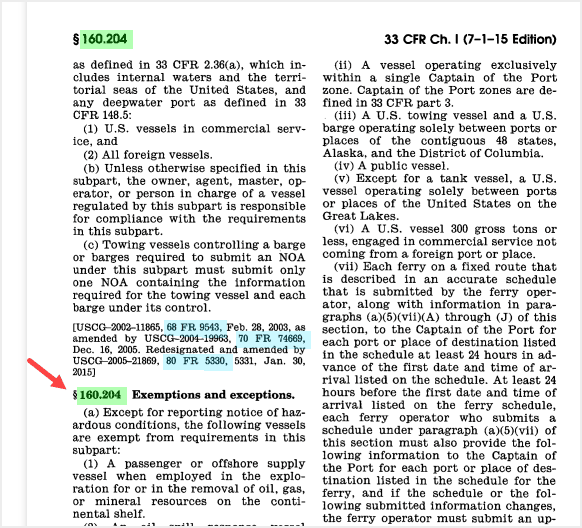 CFR Citation Locator
Alternatively, users can use the CFR Citation Locator, which functions the same as the Title/Part/Section Locator Tool, just without the detailed drop-down menu. Enter the same information from the first example.

This will again bring users to the exact same results page from the first example. Again, select the Turn to Page option to be directed to section 204.
CFR Sections Affected Locator
The CFR Sections Affected Locator will retrieve Federal Register rules which have affected the CFR title and part selected, similar to the autopopulated links from the first search example. To use this specific tool, select the title from the drop-down menu, enter a part number, and select Get CFR Sections Affected.

Next, fom the results page, select any link to access the Federal Register page ranges in which the rule occurs.