Committee reports are considered to be one of the most important documents of legislative history research. These reports are produced by the House and Senate committees that address legislative and other policy issues, investigations, and internal committee matters. Each report can be identified by standardized citation that includes the Congress, chamber (House or Senate), and report number.
Watch the video for a tutorial on how to locate a House or Senate report, then read through the guide below.
Where to Find a Committee Report
HeinOnline contains two collections that include House and Senate Reports. Let's explore the various ways users can search for committee reports across HeinOnline.
From the Welcome Page
For this example, let's search for House Report 330 of the 111th Congress. From the HeinOnline welcome page, enter 111-330 in the search bar and select the Just search for option.

From the results page, select House Reports from the Section Type facet on the left-hand side.
The first three results include House Report 111-330.
From the U.S. Congressional Serial Set
The U.S. Congressional Serial Set includes a Citation Lookup Tool on the database homepage equipped with a series of drop-down options allowing users to enter the document type, Congress, and document number.

The search will bring users to the exact House report in the Serial Set.

Click the hyperlinked title to view the report.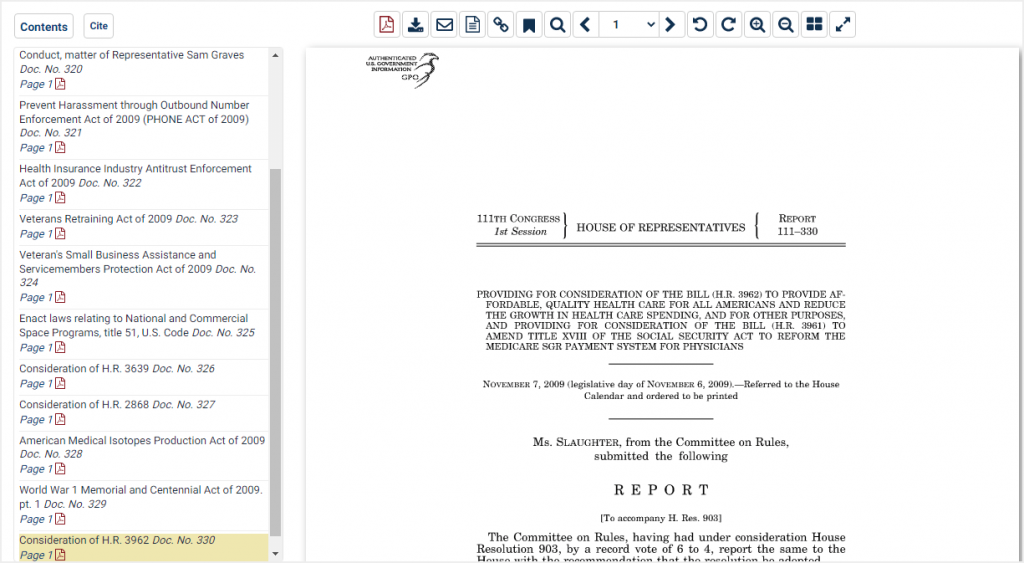 From the U.S. Federal Legislative History Library
HeinOnline's U.S. Federal Legislative History Library includes more than 2,500 compiled federal legislative histories which include the full text of the public law, bill versions, congressional hearings, committee reports, and other supporting documentation. To search within this database for a committee report, users would need to determine what public law the committee report is tied to. In this example, the House report we are looking for is linked to the legislative history for the Patient Protection and Affordable Care Act.
From the database homepage, users can browse by publication title, public law number, or popular name. Let's browse by Popular Name and navigate to P using the A-Z Index.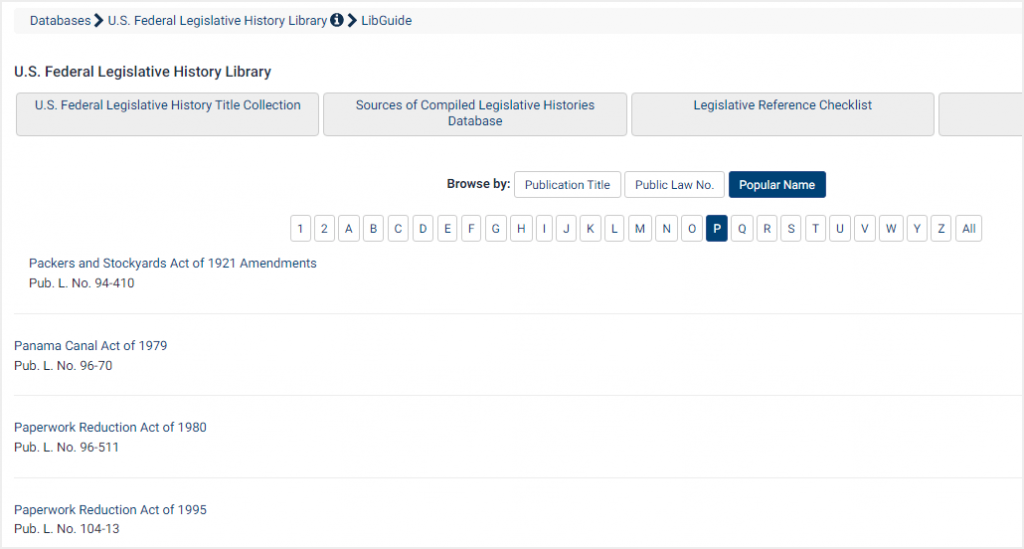 Next find the Patient Protection and Affordable Care Act listed alphabetically. Select the title to view a list of available legislative histories.

Let's open Health Care Reform: A Legislative History of the Patient Protection and Affordable Care Act, Public Law No. 111-148 (2010). Select Cumulative Contents to view the tagging and indexing for each volume.

Browse through the content to find House Report 111-330, or use the CTRL + F keys to search for 111-330.