External journals in HeinOnline includes links to law review articles that do not reside inside the HeinOnline database. These are electronically published law review articles, usually not distributed in print format and only made available online via the web. As these articles do not fit the typical structure of a bound book with pagination, they do not function the same within the HeinOnline database model. Therefore, we have included links to these articles in the search results in order to provide you with even greater access to resources that supplement the content available in HeinOnline. By providing links to external law review articles, HeinOnline allows you to conduct your research in one place and on one website.
The only time you will receive search results that include external articles is if you conduct a creator/author or title search and choose to include external articles in your results. The title and creator/author fields are the only meta-data input into HeinOnline for external law review articles. Therefore, if you conduct a text search across the Law Journal Library, your results should not include any external articles.
Choosing to include external articles in your search results can be useful if you are looking for a specific article written by an author and are unable to find the full text article in HeinOnline.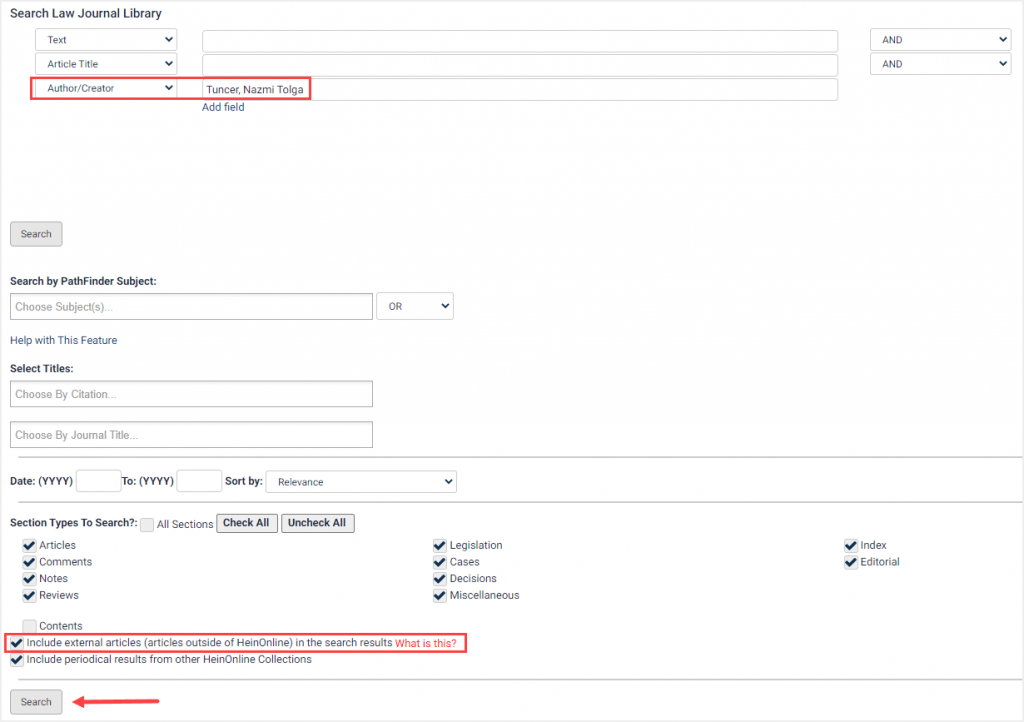 Per the above example, if you search across the Law Journal Library for articles written by author Nazmi Tolger Tuncer, you will get the following result:

When you click on this link, it will bring you to an external journal.
External journals are intended to provide you with access to more research materials in one place, thus optimizing your time spent researching on the web.