HeinOnline's U.S. Supreme Court Library contains comprehensive coverage of the U.S. Reports, which is the official source of United States Supreme Court case law. Since the publication of the official U.S. Reports is generally delayed by several years, the United States Reports Preliminary Prints and the United States Reports Slip Opinions are also included in this database.
Access all of these publications by choosing the Official Reports browse option on the collection homepage:

Searching
To search for a specific case, use the Advanced Search link, located beneath the main search bar and use the case name field. For example, search for Miranda v. Arizona: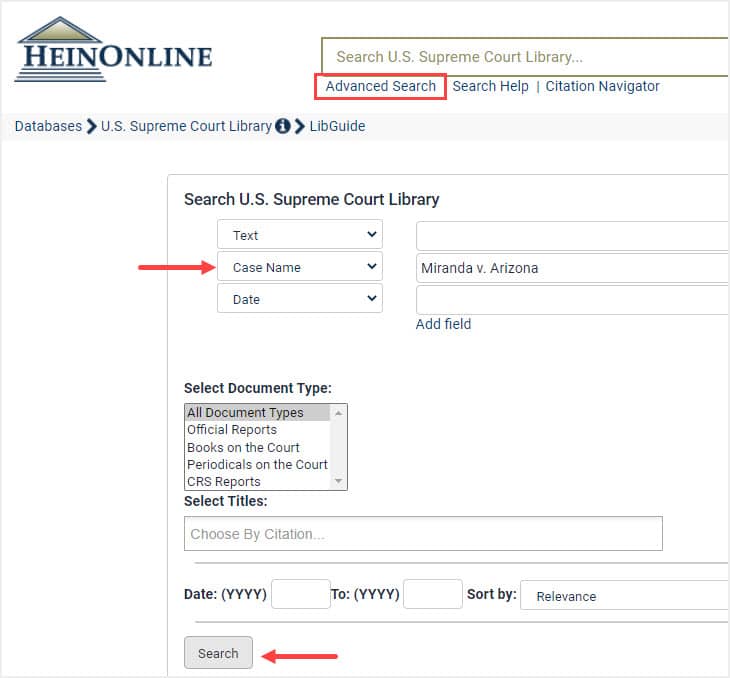 From the results page:
Click the title of the case to access an image-based PDF of the case as it was originally published in the U.S. Reports.
Note ScholarCheck "cited-by" information to the right of the search result, which will link to articles and cases* which cite Miranda v. Arizona. It also includes the number of times a case has been accessed by other HeinOnline users within a rolling 12-month period.
Use the tools located above ScholarCheck information to download a PDF of the case, access additional print/download options, email a PDF link of the case to anyone, or save the case to a MyHein personal research account.
Linking to Oyez's website, which provides transcripts of U.S. Supreme Court cases in various media, is available from within search results and tables of contents of cases.

The case itself appears exactly as it was published in the U.S. Reports, with the added bonus of full searchability: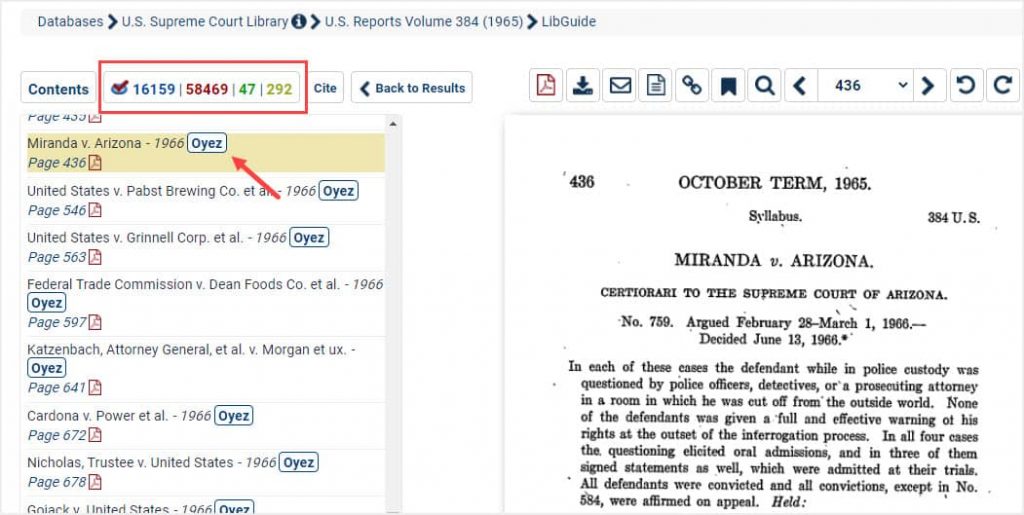 Additional Content
In addition to comprehensive coverage of U.S. Supreme Court case law, the U.S. Supreme Court Library also includes:
*Cited by cases feature available with account synchronization or an upgrade to Fastcase Premium.
For additional help, check out our dedicated LibGuide.