Check out the video tutorial below, then scroll down for a written guide:
To search for a member of Congress by name in the U.S. Congressional Documents database, you would use Mr. or Mrs. and the last name of the Congress Member. If you do not know the proper title prefix, simply enter the last name.
Example: "Mr. Sessions"
You can search for this by using the Advanced Search option at the top of the main page. From here, you would use the Text option in the drop-down box and type the name into the search box. Select text from the field drop-down. Select Congressional Record from the Select Document Type listing and click search. A name may get several hits in the database; therefore it is best to try and narrow the search to a date range and a specific section such as Senate or House (see Refining Your Search).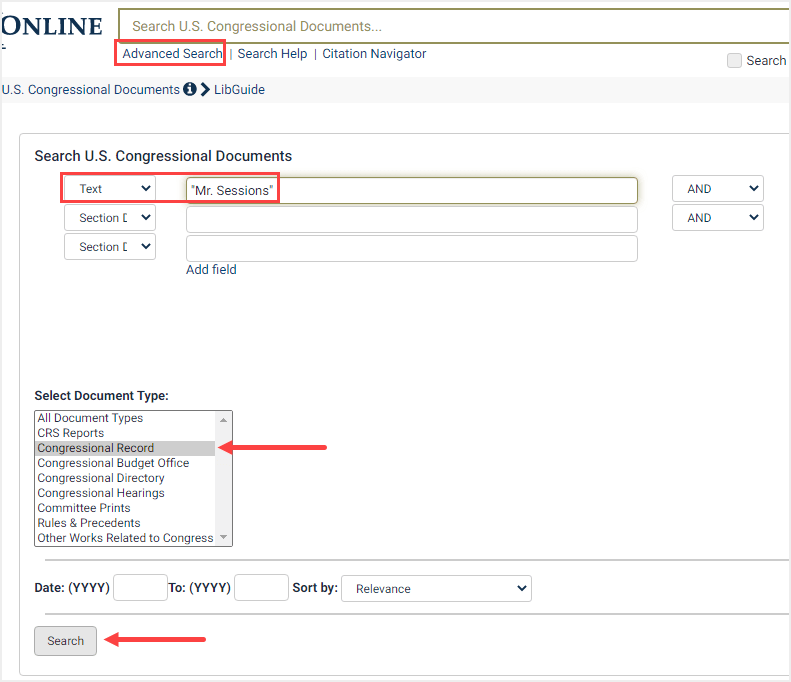 You can also search for names using the Just search for drop-down that appears when you type in the main search bar at the top of the page. For this type of searching, you would type "Mr. Sessions" and click the search button.