HeinOnline has six different options located in the upper right corner of every page.
MyHein Profile

This tab is HeinOnline's personal research tool which allows the user to bookmark articles, save search queries, set up eTOC alerts and more! Click here to create your account, login, view saved bookmarks, or access the user's guide.
What's New

This tab links users to our blog listed under Features/Enhancements. We are constantly updating our blog to let users know what is new in HeinOnline. Additionally, we have a link to all the new content for the month, as well as the option to download the new content into a CSV.
Help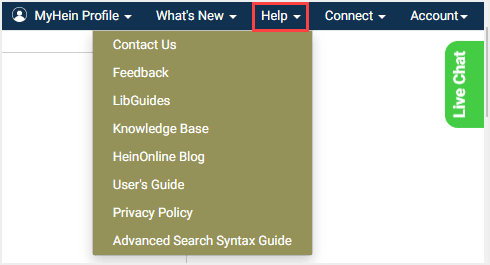 This tab is a source for all the help you may need.
Contact Us links you to a page with all of our contact information including phone numbers and emails.
Feedback gives users the option to compliment HeinOnline, leave a suggestion, or let us know about a problem or concern.
This tab also connects you to our blog and our Knowledge Base which holds hundreds of articles and videos to help users navigate through HeinOnline.
Lastly, the user's guide and Advanced Search Syntax Guide are links to educational guides for users.
Live Chat

The live chat option gives the user the ability to speak directly with our dedicated support team.
Connect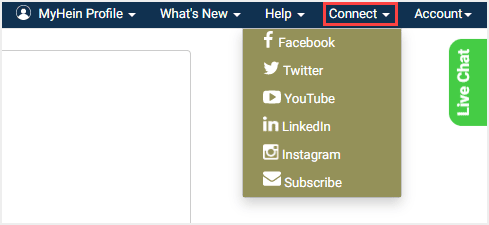 Click on any of these listings to follow us on all our social media outlets!
Account

This last tab gives you to the option to log out of your account, login as a different user, or change the language of HeinOnline. You can also change your account to be Section 508 compatible.