Are you trying to access HeinOnline from off-campus?
Most schools offer remote access to their online resources via a proxy server. HeinOnline offers a menu on our login page where users may select their college or university, which will then direct them to the proxy login area for HeinOnline.
In order to access your institution's proxy login page, simply type the name of the institution. You will note the institution names begin to autofill as you type: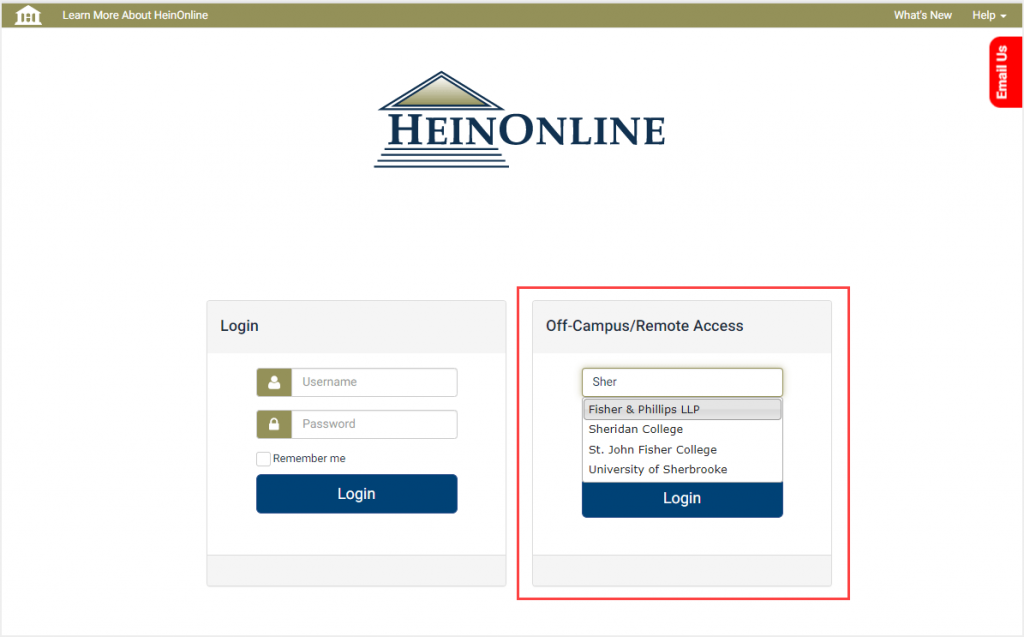 You may then select the institution and click login, which will direct you to the proxy login area for HeinOnline.
What if my school has a remote web portal but is not listed?
If your college or university is not listed as an option for off-campus access, and such a link exists, you may provide us with the information and link address at techsupport@wshein.com and we will be happy to add it to the drop-down list.
Every school's remote access is set up differently. Generally, if you navigate to your library's web page, you will find a list of available online resources. If you select an online resource such as HeinOnline from this list, and you are off-campus, it will likely prompt you to log in to your school's web portal.
HeinOnline does not have access to school-assigned usernames and passwords; for this information, you should contact a librarian at your school. Should you require assistance locating the web portal log-in area, or have questions specific to your school's remote access capabilities and policies, please contact a librarian at your school for assistance.